Pick the commission that works for you.
Save thousands, and market like a pro. With HomeRise®, you can:
Here's our easy three-step process catered to homeowners like you.
Our proprietary Home Valuation Tool will help you see what your home is worth: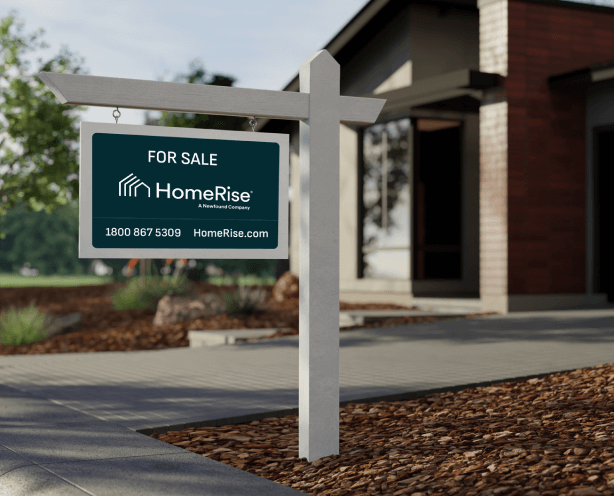 Every plan includes a custom yard sign, and apps to help market your home – like a pro.
Sit back and watch, we've got you covered. Run into issues? We can match you to a 1% local expert to finish the job.
Transparent and easy to follow, view our pricing model below.
Best for highly confident home sellers with minimum needs


$95
to List
+ $495
at Settlement
Best for highly confident home sellers that want to
 make a big impact
$495
to List
+ $995
at Settlement
Best for highly confident home sellers who want to leave
no stone unturned
$595
to List
+ $1995
at Settlement
Ideal for home sellers who  want local Agent expertise but don't want to overpay
$0
to List
1% at Settlement
It's the Smarter Way to Sell Your Home.
Cut the commission fees and save more of your equity. List your home on the MLS, Zillow and Realtor.com for just $95.
Listing your property is simple and easy, allowing you to move quickly and sell your home faster. Use our free tools to price accurately and connect to buyers.
choose from one of our service packages so that you're only paying for the services and assistance you really need in the transaction.
An easy and intuitive process. I can't recommend HomeRise enough!
All in all it was a very smooth and great experience!
In this market all you need is someone to get you on the MLS and realtor.com, and they will do this for you. I'd give them 10 golden stars if I could.
I saved thousands of dollars by utilizing them instead of a traditional real estate service.
They made the process of selling our home very simple and straight forward.